Revival of groundnut in Sitapur and adjoining districts of Uttar Pradesh
Groundnut status in district Sitapur, Uttar Pradesh
Earlier, during the decade of 1980-90, the area of groundnut in Sitapur was ranging from 27-30 thousand hectares. Then, slowly the area reduced to 1,662 hectares (2010-11). The reason for declining area of groundnut has been attributed to industrial, technical, menace of wild animals (blue bull) and shifting of cultivation towards sugarcane. In Sitapur during 1980-90s, there were 110 oil mills, which were catering to the need of groundnut growers in the district and now reduced to 6 small mills. Taking cognizance of the continuous decreasing area of ​​groundnut in Sitapur district, Krishi Vigyan Kendra-II, Sitapur, started a promotional program "Revival of groundnut in Sitapur and adjoining districts of Uttar Pradesh" with the technical support of DGR, Junagadh Gujarat. viz.. availability of good quality seed which recommended for Uttar Pradesh and supported by the package of practices.
KVK Intervention
In milieu of Govt. of India's aspiration for doubling of farmer's income by 2022, we have to thoroughly scrutinize farming patterns and systems presently adopted by our farmers as it is quiet challenging but at the same time it is needed and is attainable. In the district Sitapur a large number of farmers are engaged in sugarcane based cropping system which is well known for its higher input demands. In this traditional farming system we can achieve our goal of increasing the farm income through increase in productivity and improvement in efficiency of input use or cost saving from the same unit of land and resources available to our farmers.
In this regards KVK assessed various technological interventions for further enhancement of the income of sugarcane farmers. From the results of our trials, the intercropping of summer groundnut in spring planted sugarcane showed the potential to increase the income of farmers substantially by generating extra income per unit of land and inputs utilized. The intercropping of groundnut with spring planted sugarcane was found to be very effective for the improvement in the level of nutrients in the soil thus augment of soil fertility as groundnut belongs to the leguminous family. District Sitapur having high potential of Banana cultivation and from past 5 years the area is increasing day by day and now reached up to 3000 Ha currently. For intervention in Kharif season, KVK-II, Sitapur taken also initiatives on intercropping of groundnut with banana in the year 2017-18 and the results was very encouraging.
Output
The summer groundnut (Variety.T.G.37-A) were sown in February-march in single and paired row model between trench planted sugarcane (variety- Co-BOSI-435) 3x3. It was recorded that yield of groundnut with single row planted method was 17.5 to 19.25q/ Ha while with paired row planted method it was recorded 20.60 to 23.75q/ Ha. The yield of sugarcane with single row planted groundnut was recorded 111 to 112.4t/ha. While with paired row planted groundnut the sugarcane yield was found to be 112 to 112.6t/Ha.
Outcome
Economics of 1 ha Sugarcane+ Groundnut intercropping (Average of 10 farmers (single row planting method)
With the slight increase in input cost expenses farmers can achieve 17.5 to 19.25q/ Ha groundnut yield along with sugarcane. Presently the market value of groundnut is Rs. 3500 to 4000 thousand rupees/ quintal.
Total Groundnut input is 10925 Rs/ ha
Total Groundnut output is 70,000 Rs/ ha
Net profit - Total 59,075 Rs
*Note - The cost of fertilizer and weeding has not been added in groundnut because it is being done in sugarcane.
Impact
Now farmers are willing to come back to the groundnut crop again. A total of 810 acre area engaged by the groundnut in zaid 2018 they are hopeful for revival of groundnut in Sitapur.

Blue Bull Management
Substantial Blue Bull Management Technique for Vegetable Crop Protection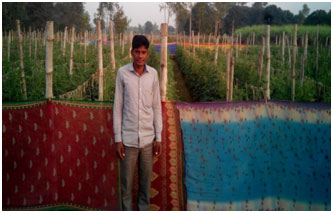 Fencing of Tomato crop by cotton / teri cot dhoti
Extinction of forest areas are responsible for the migration of blue bulls towards human habitation resulting in destruction of crops. Killing of the animal was reported to be difficult due to social/ religious sentiments treating it as "Gai" a sacred animal and due to protection provided under Wild life Protection Act. A huge number of techniques are developed namely barbed wire/ bamboo (Bambusa sp.) fencing, plantation of jatropha (Jatropha curcas), cultivation of medicinal plant at border like basil (Ocimum basilicum), menthe (Mentha piperita), zeranium (Pelargonium sp.), opium (Papaver somniferum), lemon grass (Cymbopogon citratus), citronella (Cymbopogon winterianus),), palm rosa (Cymbopogan martinii) etc., burning crackers, application of kamdhenu biopesticides (mix 20 lit cow urine, 5 kg neem (Azadirachta indica), 5 kg dhatura (Datura stramonium), 500g tobacco (Nicotiana tabacum) leafs, 250g garlic (Allium sativum) leaves, and 1.5 kg dry chilli (Capsicum annuam) and kept air tight for 40 days) for the control of blue bulls. In case of fencing, if bull is being able to insert his head portion in the fencing he will break the barrier and resulting loss of the crop. In spite of all these techniques, farmers demand quick and complete control from the menace of blue bulls.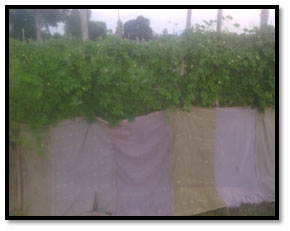 Additional crop Momordica charantia in support of cotton / teri-cot dhoti fencing
In Maholi block of Sitapur farmers from more than 20 village namely Mallpurchaube, Allipur, Chanupur, Niazpur, Rajpur, Gharkatara, Thawai, Durgapur, Banjariya, Sarbatpur, Masjid Bazar, Mahmoodpur, Lalpur, Bhagwanpur, Piprawan, Hardaspur, Badagaon, Bojhwa, Jamunaha, Chiragali, Vikrampur, Mahewa, Kherwa, Kateeli etc are growing tomatoes (Lycopersicon esculentum) in approximate 400 Ha land. Every year the menace of blue bulls directly affect the crop and damage it leads to poor.
During a crop survey in the village in November 2013 Allipur by Krishi Vigyan Kendra(KVK)-II, Katia, Sitapur team, Vinod Kumar Maurya a young progressive farmer who cultivates tomato crop came in contact with KVK scientists and posed his agricultural problems. The KVK team studies the village situation and farmers 'tribulations and according that suggested for crop cover approach by "cotton/ teri cot dhoti with help of bamboo all side.
Vinod kumar in year 2014, while cultivating tomato (Lycopersicon esculentum) from starting covered the hole 0.4 ha crop by 50 cotton dhoti costing Rs. 500 (Rs 10/dhoti) with the help of bamboos used for staking touching the ground level and feel relaxed about bull attacks. The crop was safe throughout cropping season. Next year while growing tomato during 2015, Vinod Kumar used this barricading for climbing of bitter gourd (Momordica charantia) and received additional income from bitter gourd to the tune of Rs 12,500. The theory behind this is the blue bull never jumps the fencing and does not eat bitter gourd. The time and labor saving techniques have become very popular among vegetable grower. The technology is very well accepted by farmers and very well adopted in more than 400 Ha tomato growing areas covering 20 villages of Maholi block of Sitapur district, U.P.
Mango Fruit Fly Management
Farmers achieved higher Mango production by managing Fruit Fly

The UP mango varieties Dashahri, Langra and Chausa are of excellent quality. There is limited competition for these varieties within different mango producing states.Sitapur is one of the leading mango producing districts in Uttar Pradesh. The Oriental fruit fly (OFF), Bactroceradorsalis (Hendel) (Diptera : Tephritidae) is a direct pest on mango. The loss in fruit yield ranges from 10 to 30% with a mean of 18%.During past years, the OFF not only causes economic loss but is also of quarantine importance.
A Fruit fly management campaign (using methyl Eugenol trap) was initiated in April 2013 by KrishiVigyan Kendra-II, Katiya, Sitapur in Collaboration with Central Institute for Subtropical Horticulture, Lucknow in Sitapur district of Uttar Pradesh. Krishi Vigyan Kendra-II, Katia, Sitapur selected 9 Blocks covering 203 farmers with 350 Ha mango cultivated area (68 Ha fruit bearing tree) and organised meetings and demonstration camps in respective blocks. The trap was distributed free of cost to the respective farmers and demonstrated on-fields. Field trials in mango orchards have shown encouraging results in the Integrated Pest Management (IPM) System.There was substantial decrease in losses consequent to adoption of this technology and at maturity, farmers savedaverage nearly Rs.10, 000/acre worth mango fruits, making the technology cost effective. This has facilitated export of mangoes which had previously banned Indian Mangoes because of fruit fly. It was also felt that insecticidal dose level among farmers field also reduced.The farmers have shown keen interest in easy and effectivetechnology and now being adopted on large areas.
Dr. Anand Singh, Programme Co-ordinator Krishi Vigyan Kendra, Katia, Sitapur and his team viz. Dr. D. S. Srivastava, Dr. A. S. Yadav, Dr. Anand, Dr. Saurabh, Mr. M. K. Bisen, Mr. S. K. Singh, Dr. Y. P. Singh & Mr. S. P. Tomer taken the task and demonstrated this Eco-friendly techniques among the farmers.
Conservation Of Natural Resources With Lac Culture: A Step Towards Soil, Water And Forest Conservation Linked With Income And Employment Generation In Sitapur, U.P.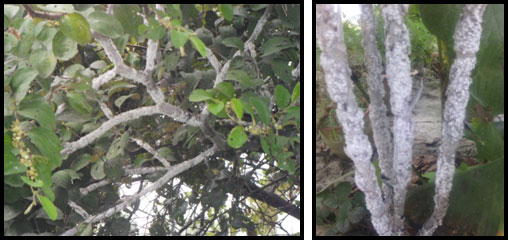 Introduction : A vast majority of the rural poor continue to be dependent on land and water resources for their meagre livelihoods. Sadly, however, various phenomena including deforestation, drought, soil erosion, low risk bearing capacity of farmers, small holding size, traditional methods of cultivation, poor net-work of transport, lack of marketing avenues etc have resulted in decreased incomes for farming families.
Lac, a non-toxic, valuable resin of insect origin was being produced by an insect Kerria lacca, cultured on shoots of several species of trees i.e. Palas (Butea monosperma), Ber (Zizyphus mauritiana), Kusum (Schleichera oleosa), Flemingia (F. semialata) etc.. The lac insects yields resin, lac dye and lac wax.
India is the largest producer of the lac in the world. Chhattisgarh state rank Ist followed by Jharkhand, Madhya Pradesh, West Bengal, Maharastra, Orisa, Bihar, Gujarat, Andhra Pradesh, Asom and Uttar Pradesh. The starting five states are contributing around 95 % of the national lac production.
The district sitapur very rich in lac host plants (Butea monosperma, Zizyphus mauritiana, Schleichera oleosa etc.) in scattered places but due to lack of knowledge and awakening, farmers ignore host trees and they cut & use for fuel purposes.
Major crops of the district are Sugarcane, Rice, Millets, Pulses and oil seeds. Dual characteristics of nature i.e. Rainfed agriculture as well as flood prone situations is prevalent in the district. Crisis in cash flow among farmer through their traditional source of income from sugar industry turns deep down and the situation is very challenging.
Character of technology : Ensured production even in drought condition, Additional opportunity of employment at industry level, Easy marketability, Preventing deforestation, Utilizations of degraded land , Conservation of insect biodiversity, Low investment high return commodity, Low risk, Little manpower & time devotion , No interference with agriculture and horticulture crops, Non-perishable cash crop
Major gaps in lac related technology : Most of the existing ber and Palas trees are un-utilised for lac production in the area. The lac culture technology will provide opportunity to income and employment generation. Farmers lack knowledge of new host plants and its utilisation for lac cultivation. Raising of plantation of such species (F. semialata) helping those farmers who are without host tree to start lac cultivation 2nd year after plantation. Plantation of lac host trees giving additional income to farmers one way whereas chance of soil erosion, waste & barren land formation minimizes other level. Conservation of Butea monosperma (Dhak) plants gave another avenue for dye formation through its flower. This plant also conserves 2 lit water in their roots, hence water conserve automatically. Processing unit of lac will help to store lac for a longer period if required, which is otherwise difficult. Thus to bring stability the initiative on its stabilisation of production started through intervention in technology availability with the community coupled with backward (brood Lac production) and forward linkages (Lac based value added products)
Impact of the technology : Krishi Vigyan Kendra-II Sitapur has taken the initiatives on Introduction of Lac Culture technology and its Value added products in the district for income and employment generation in 2013. The technology was demonstrated on Flemingia semialata and Zizyphus mauritiana with the introduction of Kusumi lac life cycle. This technology was viewed by more than 3000 farmers of Sitapur, and Hardoi, Barabanki, Kanpur Dehat farmers also. The technology was also demonstrated in Kisan Melas organisied by different Universities/ Institutes/ organisations. Lac culture technology started in the district initially on 3Ha area under key monitoring of KVK. Presently the technology of farming been adopted in 8 Blocks of Sitapur district with 24 Acre Area. An average income of Rs. 1000/ Ziziphus tree and Rs. 50/ Flemingia plant is being started with this technology in 6-7 months. For sustainable management of the technology, a group of farm women being trained on Lac based value added product management and their product utilization. The harvested Lac were also being utilized by women farmer in making different types of Lac based value added products and they are earning 50-70 Rs./ day in 3-5 hour. The higher attention was due to its market arrangement by KVK itself. KVK established different modules of the farming with greater extent of interventions, higher returns and employment generation.
Remarks : It is relative low cash and labour input crop with high returns. It is generally compatible with existing rural livelihood activities in terms of its labour requirements. Lac Cultivation encourages conservation of host tress and leads to a re-greening of the land and conversation of forest. It provides an important livelihood activity for women. The farmers started introduction of Lac Host Plants in their area and cultivating Lac and also involve in Lac Host plant production programme. Preventing deforestation, Utilizations of degraded land and Conservation of insect biodiversity linked with income and employment generation are the main features of this technology.